Venue
ASYNC2016 will be held in the Faculty of Informatics at Pontifícia Universidade Católica do Rio Grande do Sul (PUCRS) in Porto Alegre (english website).
Located at: Av. Ipiranga, 6681, Partenon, Porto Alegre - RS, Brazil.
The first Marist University in the world, PUCRS celebrates 65 years in 2013, with more than 145 thousand alumni, prepared for placement in different professional areas. It is a comprehensive university, offering 51 undergraduate programs, more than 100 options for certificate courses, 24 Master's and 21 Doctorate programs.

With extensive physical spaces and green areas, PUCRS' campus covers an area of 135 acres, with an infrastructure that fully attends to the thousands of students, professors and professional and administrative personnel of Tecnopuc.

Among the various buildings of schools, laboratories, classrooms and administrative departments, the Main Library stands out, considered to be the most technologically advanced in South America, offering more than one million references in all areas of knowledge. It has 14 integrated stories designed for discovering knowledge.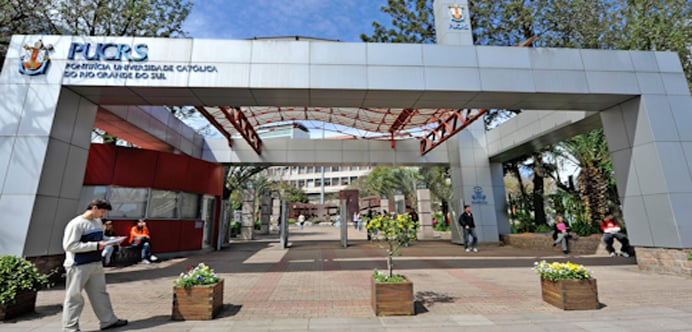 Main entrance.
Faculty of Informatics Building.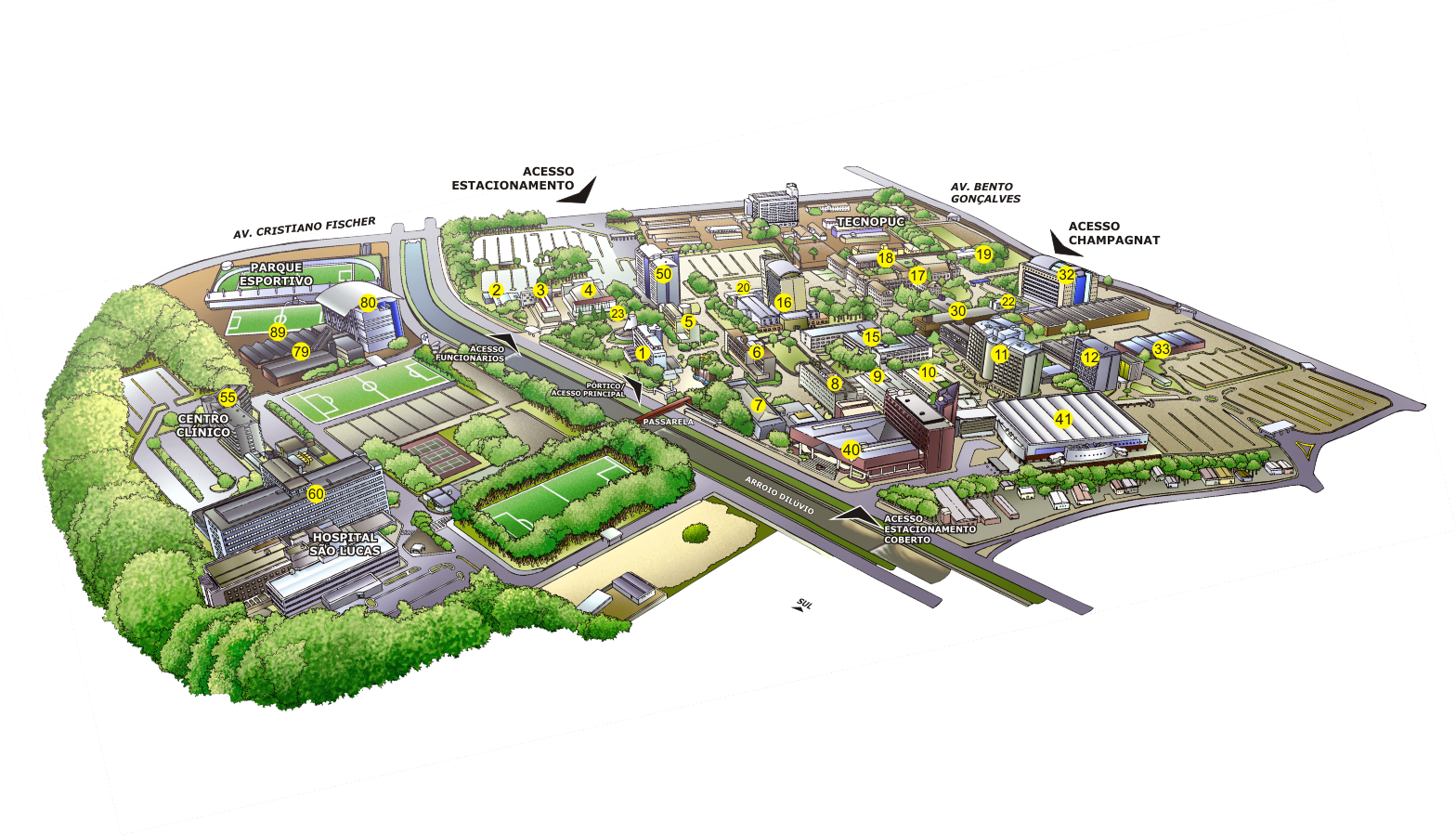 Food at Campus.
Panorâmico Restaurant
Buffet - Executive style
Location: "41" building, 4th floor
Lunch: 11:30am - 02:00pm
Phone: +55 (51) 3339-2446

Cantina Restaurant
Buffet - Homemade style
Location: "19" building
Lunch: 11:00am - 01:45pm
Phone: +55 (51) 3339-5685

Sabor e Saber Restaurant
Buffet - Homemade style
Location: "3" building
Lunch: 11:00am - 02:00pm
Phone: +55 (51) 3352-0393
Ponto 11 Restaurant
Buffet - Homemade style
Location: "11" building
Lunch: 11:15am - 02:00pm
Phone: +55 (51) 3339-5027

Prédio 40 Snack Bar
Fast food and a La Carte
Location: "40" building, 2nd floor
Business hours: 07:30am - 11:00pm
Phone: +55 (51) 3315-1492

Other Snack Bars
Fast food and a La Carte
Location: "6", "15", "30", "32" and "50"
Business hours: 07:30am - 11:00pm